D2 (Ergosterol, Ergocalciferol)
Vitamin D is present in numerous sources of food, such as cod liver oils, fish, eggs and fortified milk. The sun is also responsible for contributing a significant level of vitamin D to a daily production, and it is believed that obtaining just ten minutes of sun exposure is enough to prevent a person from developing deficiencies in vitamin D.
The term "vitamin D" does not technically refer to a single type of vitamin, but rather, it refers to several different kinds. Two forms in particular are of the most importance with regards to human: vitamin D2 (ergocalciferol) and vitamin D2 (cholecalciferol). The former kind of vitamin D is synthesized by plants, whereas the latter kind of vitamin D is synthesized by humans upon the exposure of ultraviolet-B rays directly from the sunlight onto the skin. Some foods may be fortified with both kinds of vitamin D.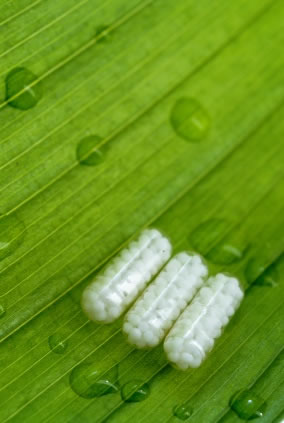 The primary biological function that vitamin D has is to make sure the blood have normal levels of phosphorus and calcium in it. It is also capable of aiding with the absorption of calcium, which allows bones to remain strong and for the strong bones to form in the first place.
In recent times, it has been suggested by research that vitamin D may prove to be beneficial in protecting people from several autoimmune diseases, cancer, high blood pressure and osteoporosis.
Two Known Cases
Osteromalacia and rickets are the two classic cases of deficiency of vitamin D. When children experience a deficiency of vitamin D, they will typically develop rickets, the end result of which is a deformity in the skeletal system.
Adults who allow themselves to become deficient in vitamin D will likely develop osteomalacia, the end result of which is weakness in the muscles and the bones becoming weaker than normal.
D2? Get Remedies Fast!
Those who are at a high risk for developing deficiencies of vitamin D are those who are elderly, are an obese individual, are infants who are exclusively breastfed, and are regularly limited from sun exposure.
Other people at risk are those who have cystic fibrosis, or any other malabsorption syndrome or those who have an inflammatory bowel disease, including Crohn's disease.
Synonyms
Vitamin D is known by many names, including:
1 alpha D3
19-nor-1
1 alpha-hydroxyvitamin D2
1,25-DHCC
1,25-dihydroxy-22-ovavitamin D3
1,25-dihydroxycholecalciferol
1,25-dihydroxyvitamin D3
1,25-diOHC
1,25 2D3
1-alpha-hydroxycholecalciferol
22-oxacalcitriol
25-dihydroxyvitamin D2
25-dihydroxyvitamin D2
25-HCC
25-hydroxycholecalciferol
25-hydroxyvitamin D3
25-OHCC
25-OHD3
activated 7-dehydrocholesterol
activated ergosterol
alfacalcidol, calcifediol
calcipotriene
calcipotriol
calcitriol
cholecalciferol
colecalciferol
dichysterol
dihydrotachysterol 2
dihydrotachysterol
ecocalcidiol
ED-21
ED-71
ergocalciferol
ergocalciferolum
hexafluoro-1
25dihydroxyvitamin D3
irradiated ergosterol
MC903
paracalcin
paricalcitol
viosterol
vitamin D2 and
vitamin D3
Evidence
Familial Hypophosphatemia
Familiar hypohosphatemia, which is the instance of the blood having low levels of phosphate, is a disorder that is both rare and inherited, which consists of the transport of phosphate being impaired in the blood, as well as the vitamin D metabolism present within the kidneys being diminished. Familial hypophosphatemia is a known kind of rickets. Familial hypophosphatemia suffers are able to take phosphate supplements, in addition to dihydrotachysterol or calcitriol in order to effectively treat some of their bone disorders. However, management should be made beneath the supervision of a physician.
Fanconi syndrome related hypophosphatemia
Fanconi syndrome, associated with renal tubular acidosis, is a defect associated with the proximal tubules within the kidney. Taking oral dosages of ergocalciferol has been found to be useful towards treating instances of hyophosphatemia that is associated with the presence of Fanconi syndrome.
Hyperparathyroidism Associated With Low Levels of Vitamin D
Some patients who have low levels of the essential vitamin D may find themselves with secondary hyperparathyroidism. As people may expect, the necessary and initial treatment for resolving this issue is to supplement a person with vitamin D. It is commonly recommended to have surgical removal of the parathyroid glands in those who have either refractory or primary hyperparathyroidism, however. There are some studies which suggest the supplementing a person with vitamin D should reduce the occurrence of hypoparathyroidism that may follow an instance of surgery in order to treat primary hyperparathyroidism, whether the parathyroid glands were partially or wholly removed.
Hypocalcemia Resulting From Hypoparathyroidism
It is rare to experience hypoparathyroidism, or having low levels of the parathyroid hormone in the blood, and it usually only occurs after removing the parathyroid glands through surgery. Taking in large doses of calcitriol, dihyrotachysterol or ergocalciferol may help with increasing concentrations of serum calcium in people who suffer from pseudohypoparathyroidism and hypoparathyroidism.
Osteomalactia, or Adult Rickets
Adults that allow their levels of vitamin D to sink far enough below to undergo severe deficiency turn out to develop osteomalacia, the loss of mineral content in the bones, the weakness of bone muscle and pain in the bones. Elderly people who do not have enough vitamin D in their diets, those who do not get an adequate amount of sun exposure, those who have an inability to absorb vitamin D, those with kidney disease and renal osteodystrophy, those who have had intestinal or gastric and those who have had a bone disease due to aluminum are all at risk of developing osteomalacia. The underlying cause of the osteomalacia ultimately determines what the best course of treatment is. For the most part, it involves taking phosphate binding agents, vitamin D, orthopedic surgical intervention and controlling the pain.
Psoriasis
There are a few different ways to treat the different forms of psoriasis skin plaques. A couple of the more mild approaches might include stress reduction, light therapy, moisturizers or even salicylic acid in order to remove the areas where scaly skin develops. In cases that are a little more severe, it may be necessary to include treatments of retinoids, such as isotretinoin (Accutane), UV-A light, corticosteroids, psoralen plus UV-A light or cyclosporine. Vitamin D3 appears to be able to control the growth of skin cells and is thus used when skin plaques are moderately severe.
Uses Based Upon Theory and Tradition
The uses as described below are based upon studies and tradition. Because some of these conditions may be very serious, it is important to first consult a doctor prior to taking any vitamin D for treatment.
Actinic keratosis;
Alzheimer's disease that results in fractures of the hip;
Ankylosing spondylitis;
Autoimmune disorders;
Graves disease;
Hyperparathyroidism, particularly in renal dialysis;
Hypocalcemia;
Hypocalcemic tetany;
Kidney transplant causing bone loss;
Metabolic disorders;
Nervous system disorders, such as hemichorea;
Osteitis fibrosa through dialysis;
Rheumatoid arthritis;
Scleroderma;
Squamous cell carcinoma;
Systemic lupus erthematosus;
Vaginal disorders; and
Vitiligo.
Dosages
Adults (over 18 years old)
Most multivitamins have vitamin D included in them, and it is usually in strengths ranging from 50 IU to 1,000 IU when they are in tablets, softgels, liquids and capsules. The following levels of AI, or Adequate Intake, have been established herein by the United States Institute of Medicine.
It is recommended for all individuals, whether male, female, lactating or pregnant, to take in 5 micrograms of vitamin D on a daily basis, which also amounts of 200 IU. This only applies to those under the age of 50 years. Individuals who are between the ages of 50 years and 70 years should consider taking 10 micrograms on a daily basis, which also amounts to 400 IU. Those who are over the age of 70 years are recommended to take 15 micrograms on a daily basis, which also amounts to 600 IU per day.
There have been some authors who questioned the validity of these results, stating uncertainly with whether or not it is sufficient to meet with a person's physiological needs, especially if they are an individual that does not regularly expose themselves to the sun adequately. The upper limit for obtaining vitamin D has been recommended to be 2,000 IU on a daily basis, based on reported toxicities with higher dosages.
Not all listed doses have previously been proven to be affective for certain conditions. However, in an oral dosage of 400 – 800 IU per day, ergocalciferol has previously been used to treat and prevent osteoporosis.
Children (under 18 years old)
It is recommended for newborns and children of all ages to take only five micrograms on a daily basis, which amounts to 200 IU per day. Children who are older than a year should not take more than the upper limit for their age, which is 50 micrograms on a daily basis, which amounts to 2,000 IU per day. Children who are below the age of one year are recommended to not exceed the maximum limit of 25 micrograms on a daily basis, which amounts to 1,000 IU per day.


It is potentially unsafe to take vitamin D in excess amounts orally, with potentially advertise affects such as high levels of calcium in the blood, or hypercalcemia.
There have been some authors who questioned the validity of these results, stating uncertainly with whether or not it is sufficient to meet with a person's physiological needs, especially if they are an individual that does not regularly expose themselves to the sun adequately.
A review from 2008 has recommended that all infants and children, as well as all adolescents, should only take 400 IU on a daily basis based on evidence resulting from historical precedence and current, new clinical trials.
Safety
The United States Federal Drug and Food Administration is not known to strictly regulate the usage of herbs or supplements. There is no way to guarantee any strength or purity based on the usage thereof. Prior to beginning any new therapies, it is recommended to consult a physician.
Allergies
Anybody who is known to have a hypersensitivity to vitamin D or its derivatives or analogues should avoid taking it.
Side Effects and Warnings
With the recommended AI dosages, vitamin D is mostly well tolerated, though a study found that patients who took vitamin D analogues did experience a greater likelihood in experiencing daytime sleepiness.
It is possible to experience toxicity when regularly taking excess dosages of vitamin D. The end result may include excess bone loss or hypercalcemia. Those who have kidney disease, tuberculosis, sarcoidosis, hyperparathyroidism or histoplasmosis are at especially high risk. Pre-existing instances of chronic hypercalcemia should be managed by a doctor due to its potential to lead to serious or life threatening complications.
Early symptoms of this condition may include anorexia, nausea, vomiting, excess thirst, excess urination, fatigue, weakness, somnolence, dry mouth, headache, tinnitus, vertigo and ataxia. Function of the kidneys may become impaired and there may be an instance of calcium being deposited into several organs, which will also affect the kidneys. The necessary treatment for these is to stop taking calcium or vitamin D and to lower the levels of calcium under only the strictest medical supervision. It may be necessary to use corticosteroids and to acidify urine.
Pregnancy and Breastfeeding
It is recommended for pregnant women to take the same level of vitamin D as if they were not pregnant. There have been some authors who felt that pregnant women should take in more vitamin D, especially if sun deprived, but this has yet to be clearly established. Discuss higher doses of vitamin D with a physician due to the risk of vitamin D toxicity.
Maternal milk does not have much vitamin D to it, so it may be necessary to supplement an exclusively breastfed infant for the first two months of life in order to prevent vitamin D deficiency.