Having dark underarms is a pretty common problem, contrary to what you are probably thinking. It's not only you that has this type of problem. Most of us like to wear clothes that are sleeveless, but when you have dark underarms it can be an embarrassing situations. There are many things that can cause dark underarms like shaving too much, using the wrong type of deodorant, and maybe even an allergic reaction to something. It's commonly linked to waxing your underarms. All of these reasons can be cured using some simple steps.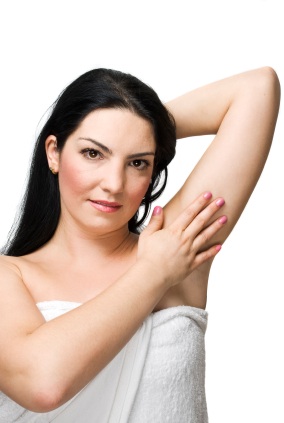 If you are getting frustrated with the way your underarms are looking, the following steps, cures and remedies can help you get rid of your dark underarms. It is recommended to first see a doctor about your problem, especially if you have had this problem for a long time. If you recently noticed a darkened area under your arms, then there are some natural and home remedies you can try first.
There are also some skin lightening creams on the market that you try before going to your last option, which is going to the cosmetic surgeon to have the dark spots taken away via lasers or UV light. Going to the cosmetic surgeon is the most costly way to go about getting rid of dark underarms, so we recommend trying other things before doing that.
Alternative Names for Dark Underarms
Dark armpits
Dark pits
Discolored Underarms
Discolored armpits
Symptoms
Some of the symptoms you can see when you have dark underarms include a discoloration of the area under your arms. It could be a few shades darker than your normal skin color. People sometimes experience itchiness in the underarm region, which can result in redness and discolorations in that region. Itching the area can cause abrasions and further discoloration because of the friction and scratching of the underarms.
Dark Underarms? Get Remedies Fast!
Another symptom of dark underarms could be excessive sweating. Since the underarms are constantly moist and wet, it could cause the area to become full of bacteria. The bacteria could also cause an odor from the underarms. The excessive sweat could be the reason for the dark underarms.
The bad odor than is caused by sweating and bacteria build up can lead to the dark underarms. If you think this is the cause, then you need to make sure that you keep the area clean and sanitized at all times. Eventually, the darkness may go away just because of that. If it does not, you may need to see a doctor about the condition of your skin.
Causes
There could be many causes for having dark underarms including shaving, dead skin cells, the use of antiperspirant and deodorant, hyper-pigmentation, hair removal creams, or a medical condition called acanthosis nigricans. Each of these causes can be cured by in form or another. So if you are getting nervous about what you may have, don't be. Even if it is a medical condition, you can get help for it and it can be cured.
Shaving
When you shave your hair with any form of blade, it cuts the hair at, or just below the surface of your skin. If you have darker hair than your skin color, the dark underarms may just be the hair that is just below your skin. It would become a problem if it were your actual skin in the area of your underarms.
Dead Skin Cells
According to some dermatologists, the dark area under your arms could just be dead skin cells. These dark spots are just the dead skin cells that are trapped in the bumps under your arms. The reason that this is happening is because when you use soap or try to shave, those valleys in your skin are not properly cleaned. This would leave the area darker than other areas of your skin.
Antiperspirant and Deodorant
The use of a certain antiperspirant or deodorant can cause the skin under your arms to become discolored or darker. Some ingredients in these products may be reacting with your skin in a bad way. In many cases, it's the fragrance that is reacting in a poor way. Switching brands or to a different fragrance may help alleviate the discoloration and discomfort caused by the deodorant.
Hyper-Pigmentation
Another cause could be hyper-pigmentation which causes your skin to produce more of a melanin pigment. It can change the look of your skin to a darker color.
Acanthosis Nigricans
Lastly, the medical condition acanthosis nigricans can be a cause of the dark underarms you may be experiencing. This condition causes a brown or black marking under the arms or in other areas of the body. It is related to the insulin your body produces and it usually happens to people who are overweight. If you think you may have this condition, you may want to talk to your doctor and get a healthy eating habit in your life.
How to Prevent Dark Underarms
The best way to prevent dark underarms is take all the necessary steps to avoid the conditions that cause the discoloration. If you sweat excessively, avoid tight clothing and make sure to wash the area as much as you can. Keeping the area clean and dry will help prevent any future dark spots or uncomfortable feeling under the arms.
You can also choose to use anti fungal creams or powders instead of using deodorants that contain things your skin might not like.
Natural Remedies
Lemon Juice – approximate price: $10
If you think that shaving is the cause of the dark underarms, you should explore some other natural remedies to try to cure the problem. Lemon juice and sugar is known to relieve the problem area. Apply lemon juice to the affected area and leave it on for about 15 minutes.
Then scrub the area with some sugar. Try that for about 2 weeks and you should notice a difference in that area. Potato juice is also known to reduce the dark look of the affected area. Try putting potato juice on the affected area for about 2 weeks. Potatoes are known to have a bleaching property to them. You should notice a difference in color after you do this for about 2 weeks.
Lime Juice, Glycerin, and Rose Water – approximate price: $15
Another natural remedy to cure dark underarms is the use of lime juice, glycerin, and rose water. These elements help because it contains Vitamin C which acts as a natural bleaching agent. Apply those three things to your armpits before bed, and wash it off in the morning. You should see results in a few days. If that doesn't work, try it for about a week and you should see results.
Baking Soda and Water Paste – approximate price: $10
Baking soda and water to make a paste is also a good way to get rid of dark underarms. Apply the paste to your underarms after taking a bath or shower. You must apply the paste while your armpits are still moist. Leave the paste on until it dries, then wash it off with warm water.
Azelaic acid – approximate price: $15
Azelaic acid if found in most grains such as wheat, rye and barley. It's made into a cream and used normally to treat acne conditions on the skin. There is research behind this acid that shows it can cure discolorations in the skin. The price of the acid is very affordable so this may be a good option for many people to try to get rid of your dark underarms.
Pharmaceutical Options
There are several skin lightening products on the market that can also show effective results. Some of these products include Meladerm, Skinbright, Revitol, and Lucederm. Each has a different formula, but if you are looking to just apply a cream and wait for results, it is the best way to go about it. The prices vary for these types of products, but the old saying of you get what you pay for, may come into play in this situation. The prices will vary from about $25 to $150. It's up to you to do the research on these products. Many people have had different results with the products.
The last thing you can try if nothing is working and you are getting frustrated, is to go to a cosmetic surgeon. What they would do is use lasers and UV light to lighten the area that is dark. This is the most expensive way to cure your dark underarms, but if you have tried everything under the sun it's your only option. There have been some problems with laser treatments in people with a darker skin tone. They may see inconsistent results with irritation in the area. If this is you, you may want to stay away from this option.
The costs associated with laser treatments vary from several hundred dollars to several thousand. The cost depends on who you go to. Different doctors have different prices for their treatments. We suggest shopping around in your local area for someone who has experience and is know to do good work.
Cryosurgery
The alternative to a laser or UV light treatment is using liquid nitrogen. The nitrogen that is injected into the affected area will cause skin cells to die, which will then regrow on your skin. Efficacy all depends on the depth of the pigments on your skin. This treatment is useful if you don't want to see any scars related to the dark underarm treatments. Lasers can sometimes leave ugly scars on the skin. This is the way that they would get rid of freckles also. It's highly effective, but probably the most costly. The cost associated with this type of treatment can get into the thousands of dollars easily. Something most people will not be able to afford.
Conclusion
If you are having the symptoms of dark underarms and want to get of this condition, it's recommended to try the natural remedies first. The natural remedies are the most inexpensive way to treat and cure dark underarms. If those do not work for you, try going to your local store and trying some skin lightening creams over the counter. There are many people that show good results using those products. With all these products, make sure you are using the products how they tell you on the labels. Also, being patient is a good way to go about this. Don't think these remedies will happen over night. Some take days or weeks to see results.
If nothing you try works, go to your doctor and see what they recommend for you. You have the options of using laser or UV light treatments, or you can go have surgery with nitrogen injections. These are the most costly ways of curing your dark underarms, but if this has been a problem for a long time, then maybe it's your only option.