Explore Your Educational Options
Yoga has long been embraced for its contributions to personal health. The practice borrows from multiple disciplines to furnish positive outcomes for devotees. It is a physical workout, to be sure, but yoga can convey additional benefits to mind, body, and spirit. Yoga also serves as a relaxation technique, relying on principles of meditation. And it is a restorative activity, capable of producing wide-ranging improvements in physical functioning, conditioning, personal perspective, and emotional health.
Whether you are a career-minded yoga enthusiast or a healthy practitioner interested in taking the next step, learning opportunities abound. Completing a comprehensive entry-level program will get you started in the field, and widespread specialty studies can help guide you to your true yoga calling.
The more experience you bring to the role of professional yoga instructor, the longer and more rewarding your career will likely be. With that in mind, training programs typically offer progressive learning options, which start with basic knowledge, before progressing to advanced principles. As you log more hours studying and applying techniques in practical settings, it is possible to elevate your teacher certification status to a higher level. Each program is unique, so it is important to choose a course of study in line with your goals and expectations.
Time-Tested Practice Carries Proven Benefits
Removing the mystery from yoga understands the building blocks of the time-tested practice – starting with the basics. A series of poses are the basis for yoga movement. While working through the various poses, yogis and yoginis pay particular attention to their breathing patterns and state of being. Using the proper breathing techniques and meditation practices enhances the experience, boosting overall well-being. Though your body and a resilient floor mat are the only essential tools required for a yoga session, props and aids are sometimes used to maximize the benefits of a workout. Known by their traditional names as well as English translations, some of the most popular yoga poses are:
Mountain – Tadasana
Chair – Utkatasana
Downward facing dog – Adho Mukha Svanasana
Tree – Vrksasana
Bridge – Setu Bandha Sarvangasana
Like personal training, yoga is a highly individualized experience. The most effective instructor, methods, and course of activities for one person may not be the best approach for another. Like trainers, yoga professionals know that defining fitness goals is important for shaping beneficial sessions. In practice, this might mean offering special classes for those with similar goals and yoga needs.
Because yoga poses involve stretching and increased range of motion, the practice is particularly beneficial to joint health, posture, and flexibility. In fact, studies show yoga to be effective relieving back pain and improving balance among those practicing regularly. Productive sessions also stimulate improvements in mental health, slowing decline and helping to mitigate anxiety and depression in some populations.
Centered on its mind-body connection, yoga has been practiced for centuries. Early sessions were meditative in nature, supplying one of the fundamental features of modern yoga. It is this link between physical and mental conditioning that sets yoga apart from other activities. For this reason yoga is thought to sharpen focus, which in turn helps tamp-down interference – ultimately soothing one's sense of self. Each experience is unique, but regular yoga practice may contribute to these and other benefits:
Increased flexibility
Better muscle tone
Respiratory improvements
Flexibility
Increased range of motion
Reduced back and neck pain
Restored vitality
Weight loss
Stress reduction
Supports cardiovascular function
Improved circulation
Injury prevention
Enhanced athletic performance
Yoga instructors are responsible for demonstrating poses and orchestrating productive sessions. Their guidance helps maximize yoga benefits and motivates participants to grow through the experience. As more and more practitioners embrace yoga's proven, centuries-old techniques; well-trained instructors carry-on yoga's nurturing traditions.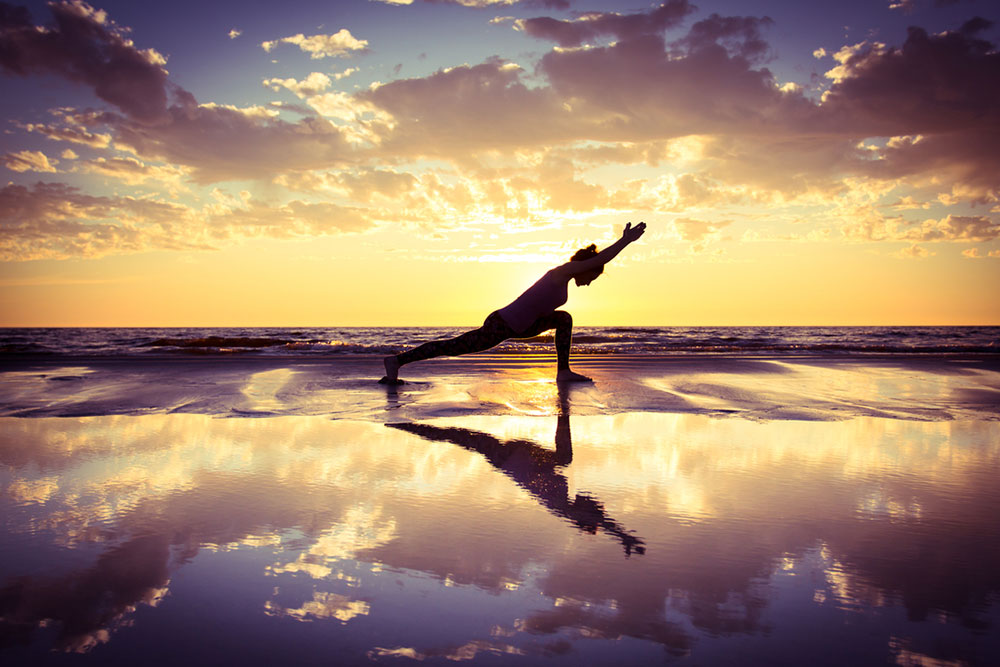 Employment Trends Favor Yoga Professionals
The Bureau of Labor Statistics tracks income and job conditions for yoga instructors as part of a broad category, which also includes personal trainers and other health and wellness personnel. As a result, average earnings and other statistics provided by the organization are not entirely dedicated to yoga professionals. Still, the data shines a light on what you can expect, entering fitness fields today and in coming years.
According to BLS, fitness instructors earned a median income of $36,000 in 2015, which is more than $17/hr., when measured against a standard work schedule. Data found on glassdoor.com places the figure around $37,900 annually, ranking yoga teachers in a category of their own. The Glassdoor estimate is derived from 69 entries submitted by yoga professionals, detailing their earnings. Since the numbers are similar and the true salary range falls on both sides of the median figure, it is reasonable for certified teachers to expect earning potential in-line with the national averages.
Grouped with other fitness instructors, the yoga profession is expected to grow by 8-percent during the years 2014-2024. The forecast places the vocation near the national average for all jobs, which is promising for emerging professionals. The growing field is competitive, however, so training at higher levels improves employment opportunities and personal job security.
Like other professionals working in health and fitness jobs, yoga instructors are employed in a variety of settings. Landing a salaried position at a health facility is a possibility for a qualified instructor, as well as working the "gig economy" as a flexible staffer. Entrepreneurs are also at-home in the position, serving as sole practitioners, yoga studio owners, and freelance fitness consultants. BLS breaks-down fitness employment this way, ranking the most common employers:
58% Fitness and recreational sports centers
12% Civic and social organizations
5% Educational services; state, local, and private
4% Government
4% Healthcare and social assistance
In practice, fitness professionals may work evenings and weekends, occasionally calling for travel to clients' homes or fitness facilities. In fact, working fitness professionals are sometimes employed in other fields, earning money as instructors at night and on weekends.
Support and Resources
Growing ranks of yoga professionals call for representation and support. Fortunately for established professionals and those just getting started in the field, several noted organizations have taken the reins, leading the vocation forward. If you are on the outside looking in, considering a yoga career, industry associations and advocacy groups are a great place to learn about the field and establish a networking foothold. These organizations share a common purpose, supporting yoga's expanding role in health and wellness:
The Yoga Alliance maintains membership of more than 81,000 professional yoga practitioners, making it one of the largest associations in the field. A few of the activities the Alliance supports:
Celebrate the profession
Advocate for yoga professionals
Form strategic alliances
Extend member benefits
Issue scholarships
Promote growth within the industry
Encourage safety and competency in practice
Support yoga professionals in business
Educate the public about the benefits of yoga
Along with its role as an advocate, the Yoga Alliance maintains a suite of resources for practitioners participating at all levels. For example, the group is an active partner compiling the Yoga in America Study, which is updated every 4 years. 2016's result highlighted some interesting and encouraging findings for yoga professionals. According to the data, the number of yoga practitioners in the United States has grown to more than 36 million, up from 20 million in 2012. Similarly, the amount of money consumers spend on clothing, equipment, and yoga accessories is also growing by leaps and bounds.
Survey responses indicate 34% of participants are likely to try yoga within the 12 month period following the polling. And that 72% of yoga practitioners are women – with men and seniors showing continued growth in numbers.
Visitors to yoga.com are exposed to a diverse society of yoga professionals and enthusiasts, eager to share their experiences. The niche site helps link students in-need with capable yoga instructors. But yoga.com has more to offer than networking between yoga devotees and experienced teachers. The site also hosts an active community, in which users share inspiration and media, chronicling their yoga successes.
An essential guide maintained by the website hosts short videos demonstrating many of the most popular yoga poses. And informative articles are assembled in another area of the site. Recent titles furnish practical insight:
How to Do a Perfect Plank Pose
How to Start Doing Yoga Every Day
Nine Things to Inspire Your Yoga Practice
The World Yoga Organisation is dedicated to the growing community of yoga devotees. The group supports practitioners worldwide, committed to uniting a network of yogis and yoginis and spreading the word about the beneficial practice. Under its own criteria for practicing and teaching yoga, the group invites teachers and schools worldwide to register with WYO, reinforcing the network of recognized yoga teaching professionals. Individual teachers are also encouraged to register with the Organisation, gaining entry to WYO's listing of recognized instructors.
A competitive yoga asana form of the practice has been a part of the discipline for centuries. The United States Yoga Federation continues to carry the torch for the sport, keeping pace with the growing interest in all forms of yoga. The organization is active establishing standardized rules and regulations for the sport and creating educational programs designed to reach the greatest possible number of yoga aficionados.
Increasing access and awareness are two goals driving the Give Back Yoga Foundation. The unique organization is founded on the principle yoga should be universally available to everyone that might benefit from its transformative, regenerative contributions to personal health. To that end, the group furnishes support for certified teachers providing yoga services to traditionally underserved populations.
The nonprofit maintains several programs, hosted for the benefit of people facing challenges. Those struggling with body image concerns, for instance, benefit from a Give Back program applying yoga to combat eating disorders. Another initiative funds yoga practice for veterans, lending its therapeutic value in complimentary sessions designed to help PTSD sufferers. Taking yoga directly to incarcerated populations is another way the Foundation gives back, as well as cancer recovery yoga sessions, helping survivors cope with the physical and emotional distress caused by cancer. And when overcoming addiction or dependence, Foundation programs furnish access to yoga for support.
The International Association of Yoga Therapists (IAYT) exists to advance yoga practices, earning universal recognition and respect for the valued field. The group not only supports continuing research on the benefits of yoga, but IAYT also stands committed to professional education for yoga therapists. Striving to bridge the divide between yoga and healthcare, the Association also serves as a professional advocacy organization for credentialed yoga professionals and students transitioning to certified instructor positions.
Although IAYT awards modest financial assistance for yoga training, the organization is primarily focused on its other contributions to the industry. For example, IAYT is active establishing and maintaining high standards within the field, including accreditation services for educational programs offering yoga training. The group also holds periodic conferences, including its hallmark Symposium on Yoga Therapy and Research. The event brings together leaders in yoga education and enthusiasts seeking deeper understanding and involvement.
Serving as an organized voice for yoga instructors, all professionals gain from IAYT efforts. Membership has its benefits, however, including perks reserved for IAYT faithful. Through partnerships with suppliers and service providers, the organization provides access to discounts and other special offers for yoga instructors.
Training Programs
Yoga instructor certification is earned by completing a recognized course of study and passing a competency exam. Modes of instruction and the particulars of each program are not always the same, so it pays to do your homework before making educational commitments. When evaluating programs, important considerations include:
Accreditation – Is your trainer recognized for consistency and excellence?
Is financial aid available?
Courses of study – Do programs match your educational needs?
Ongoing support – Offering continuing education opportunities and hosting industry events help educators stand out among widespread training programs.
Flexible learning options – Is coursework available when you need it? Can hours be earned online?
The following programs represent a small sampling of the widespread training alternatives available for would-be yoga instructors.
YogaFit is a large scale yoga educator, teaching its programs internationally. Boasting 200,000 trained instructors worldwide, the programs are aimed at health clubs, group exercise centers, and standalone fitness facilities. The organization is active hosting Mind-Body-Fitness (MBF) conferences, as well as training sessions for teachers and retreats for yoga enthusiasts practicing at all levels. The school's specialties go beyond basic yoga instruction, furnishing unique study paths in the areas of prenatal yoga, work with seniors, therapeutic yoga and a restorative branch of the practice.
Partnered with groups like the American Council on Exercise (ACE), YogaFit educates upwards of 15,000 yoga professionals annually. The school's proprietary approach recognizes the real-life challenges of integrating yoga programs in health club settings. YogaFit's "Yoga for the Fitness Industry" approach is designed to improve fitness, overall health, and mental sharpness. Further, an emphasis on safety and accessibility guide the educator's believe that yogi is for everyone and can be enjoyed in fitness environments. Beyond its role educating professionals, the group also supports the profession through fundraising and community outreach efforts.
The Yoga Education Institute is a registered yoga school, offering various levels of certification. Programs include a 200 hour course and a 300 hour course, which may be combined toward 500 hour registration with the Yoga Alliance. In addition, the Institute provides teacher training for professionals seeking children's yoga and prenatal yoga certifications.
Established professionals seeking continuation credits will find them among the Institute offerings. And the organization conducts periodic workshops, drawing experts in the field for education and networking opportunities. The Institute's courses are made available through partnerships with independent studios.
White Lotus has been educating yoga teachers since 1967. The reputable course is particularly well-suited for learners seeking an immersive experience, which can be completed in a relatively short period of time. Several times each year, White Lotus conducts its 16-day yoga instructor program, leading to certification for successful participants. The curriculum includes exposure to classical yoga traditions as well as contemporary techniques, paying particular attention to:
Origins of yoga
How yoga affects the body's systems
Physical alignment
Effective teaching methods
Dealing with injuries
Body mechanics
Developing a professional practice
Other concerns central to yoga instruction
Each White Lotus program also gives substantial attention to the roles of meditation and nutrition in personal well-being, illustrating how yoga reinforces the body's natural tendency to heal and thrive. In addition to Yoga Teacher Training Certification, Restorative and Thai yoga methods and traditions are explored in-depth, in advanced study tracks. And yoga retreats sponsored by White Lotus reinforce program content in nurturing environments.
The professional appeal of a yoga instructor career strikes several chords with would-be teachers. For starters, yoga helps people live better lives, which is a job description many can embrace. And the rewards aren't purely physical, often extending to a healthier sense of self and reduced anxiety. If that isn't enough, the vocation is steadily growing, calling for a cadre of qualified professionals to fill its ranks. And the forward-looking career choice includes several areas of specialization, so salary mobility is directly tied to training and experience. If you are serious about carving-out a niche in this rewarding field, pair your yoga passion with a professional credential, and get started today.