About Uric Acid
Uric acid is another substance that is created naturally by our body as it goes through the process of eliminating purine from the body. Purine is a substance that is naturally occurring in many food products with high concentrations in meat products. In another mystery of nature and biology it has been shown that too much uric acid can cause problems for the body while also showing some beneficial characteristics. How does this conflict work itself out and how is it possible to maintain a balance between overly high levels of uric acid and amounts that are too low to maintain essential benefits?
This article will provide a brief history of Uric Acid including a look at where it comes from, what foods contain the building blocks for uric acid, and popular uses. I will also show how it is used today and then I will examine some claims and myths about uric acid to discover the truth regarding this often misunderstood compound.
Where Does Uric Acid Come From?
As mentioned earlier, uric acid does not occur naturally but is a by-product of a natural process. Uric acid is produced when the kidneys process purines. Purines are a natural element found in almost all food types. The reason for this ubiquity is that purines are really an essential element for life as they are a part of the chemical structure of all plants and animals. There is a small sub-set of foods that contain a high concentration of purines. These include organ meats like kidneys, livers or fish such as mackerel and herring. When these foods are ingested, the purines are then broken down. The end result of this process is uric acid.
It seems like almost all of our natural processes have a downside, however, and it is not any different with uric acid production. Too much uric acid production can be taxing on the kidneys. The human kidneys is a master balancer as it ensures the right balance between uric acid that is needed for different bodily processes and left over uric acid that needs to dealt with. When too much uric acid is taken in, the kidneys process what is needed and then use the excess uric acid to form crystals. These crystals are then deposited into natural storage areas in our bodies.
Gout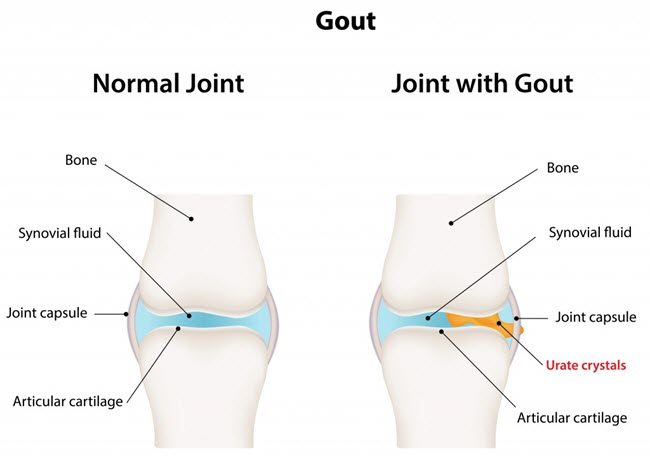 Reduce Uric Acid? Get Remedies Fast!
Unfortunately for humans, these storage areas are in various joints like elbows and knees, or far off appendages like toes. When too many of these crystals build up in these areas they can cause inflammation of the joints which can cause unbearable pain and swelling.
These are the unmistakable symptoms of gout. Gout has been with us for centuries. We have read about many a king who suffered from gout as a result of his unlimited appetite. King Henry is a historical sovereign who comes to mind immediately. It is due to the history of gout that we often think of it as a dead ailment. That is far from true. The same processes that created gout in the past are still around today causing suffering for new generations of humans.
Gout Myths
That leads us to examine our first claim about uric acid; that uric acid and purine consumption will ultimately lead to gout. The statement is only half true. It is an excess consumption of purines that lead to an overabundance of uric acid and ultimately, gout. Uric acid, as it turns out, is an important element for humans to have around. Uric acid is actually an anti-oxidant that is responsible for maintaining the health of our blood vessel linings.
As a consequence, it is vitally important to maintain a moderate level of uric acid in our bloodstream. So, we can lay to rest the myth that all uric acid is damaging. Like all things natural, there needs to be a balance in order to maintain health and a complete lack of uric acid would actually lead to major problems.
Another claim around uric acid and purines is that all meat products are responsible for the same level of uric acid production. Recent research has turned this assumption on its head. When it comes to purines, not all foods are equal. Research is beginning to show that purines from meat products and fish will lead to gout more quickly than purines from vegetables. Vegetable consumption, surprisingly, actually neither increases nor decreases gout risk, while purines obtained from dairy products may decrease gout risk. So it may be important to include more dairy products in our diet to maintain our daily average of 600mgs of uric acid a day.
Decreasing Uric Acid Production
The problem that many run into when forced to decrease their uric acid production is that the foods with the highest concentrations of purines are some of the healthiest foods available. Chief among foods with high purine content is liver. Liver is also considered to be a vital, healthy food. Many people need to continue to eat some of these foods for other health reasons not related to their issues with uric acid and purines. A simple solution is to continue to eat healthy foods such as salmon, liver and asparagus. It may be wise to cut back on the portions.
Dietary Considerations
Another possible solution would be to boil some of these foods rather than frying or sautéing them. This leads us to the exploration of another claim regarding uric acid and purines.
This claim states that cooking foods high in purine content actually increases the chance that excess uric acid production will occur. Recent examinations of this claim show that the way these foods are cooked is extremely important.
For instance, when boiling some of the high purine content foods, some of the purines become separated and end up in the water.
If the water is discarded, then the purine content of the food is actually decreased.
This leads to the conclusion that those people on a purine restricted diet due to high uric acid levels may not have to eat the majority of their foods raw.
They can actually cook some of their favorite foods and still decrease their uric acid levels.
Alcohol and Uric Acid
There has also been a claim throughout history that increased alcohol intake also leads to an overabundance of uric acid in the body and eventually, gout.
Again if we go back to our history lesson we often recall that many of the historic gout sufferers had a propensity for drinking copious amounts of red wine.
This claim is in fact true. Research has shown that alcohol does reduce the body's water content. Water is needed to process purines into uric acid and to flush excess uric acid from the body. If this does not happen, then more uric acid crystals may be formed which again is a leading cause for a serious case of extremely painful gout.
Kidney Stones
Another side effect of increased uric acid in the blood is kidney stones. Kidney stones develop from inefficient kidneys. Kidneys that are busy processing very high levels of purines tend to lose their efficiency. This is obviously another important reason for monitoring purine and uric acid levels in the body.
Weight Loss
People that are severely overweight also usually have higher levels of uric acid than the general population. Researchers are not completely sure why this is the case but repeated studies have shown that people who reduce their weight also tend to increase the body's efficiency in processing purines. Obviously, losing weight can help the body improve purine processing but if excess weight is dropped too rapidly, there can actually be a short-term spike in uric acid levels.
The reason for this is quite simple due to the fact that the body loses muscle during periods of extreme hunger. This is a reason that fasting or extreme dieting is not a good idea for lowering purine and uric acid levels. It is a much better idea to go on a stable diet that focuses on food with lower purine levels while drinking plenty of water.
Soft Drinks and Uric Acid
Now it's time for a quick word about soft drinks and their link to increased uric acid levels. It turns out that alcoholic beverages are not the only liquid villain when it comes to high uric acid levels and gout. People who drink just two soft drinks a day have an 85% greater chance of developing a case of gout than those who do not. This is due to the high levels of fructose in soft drinks.
The kidneys have a tough time processing large amounts of the fructose found in soft drinks. This naturally leads to questions about other sugary foods such as candy or syrups. It would be wise to avoid those food choices as well. Candy is high in fructose and should be avoided as well.
Ways to Avoid Issues
That covers most of the claims regarding uric acid. There are some things that can help reduce the potential for developing gout that can be used in conjunction with drinking plenty of water and following a diet with lower levels of purine.
Exercise
First and most important is regular exercise. It seems like exercise is indeed the magic elixir for maladies and it helps with high uric acid levels as well. It may be the fact that exercise is related to lower levels of uric acid through weight reduction alone but it has been shown to be helpful.
Fruit & Vegetable Supplements
It also appears that celery and celery extracts can have a positive impact on uric acid levels. Celery can now be taken in a capsule form. Celery extract is perfectly legal and is available through a number of online herb shops. It looks like most sites are selling doses that run from 50 to 100mgs and the price ranges from $6 to $20 a bottle and most bottles contain anywhere from 50 to 100 capsules.
As with any drug, herb or extract, do your homework and check with your doctor to ensure that there will not be any dangerous conflicts with prescriptions you are currently taking and that there will not be any side effects that could also detract from the effectiveness of some of your prescriptions.
Eating Cherries
Finally, there is some late breaking research that shows that cherries might also contain elements that are effective in battling increased uric acid levels. The cherries have to be tart and they work by dissolving some of the uric acid crystals that build up in the joints.
Water
It also bears repeating that water is an essential ingredient for processing purines. The kidneys, and every other organ, for that matter need water to function. Drinking 8 glasses of water a day should dramatically reduce uric acid levels in the body in a short period of time.
Keeping a Healthy Uric Acid Level
That wraps up this brief look at purines and uric acid. In summary, it is important to note that purines and uric acid are not necessarily bad things. Purines are found in just about every conceivable food and are an essential element of life. The production of uric acid is a completely normal process and we humans need uric acid to improve the condition of our blood vessels.
Like everything else in nature and in life, there has to be a balance. The body does react negatively when uric acid levels get too high by storing the excess in joints and appendages. It is important to remember that when this happens, balance can be restored by switching to a low purine level diet and increasing the intake of water to help the kidneys process purines effectively.