What is a Throat Obstruction?
There are many medical conditions or traumas which may cause throat obstruction. The results of having a throat obstruction can range from mild irritation to life threatening medical events. Internal throat obstructions are quite different from throat obstructions caused by a foreign, or swallowed, object.
Each type of throat obstruction requires a different level of care, ranging from easily administered home remedies to an emergency visit to the hospital. Internal throat obstructions can be caused by swollen tissue in the esophagus which is often a result of illness, disease or injury. Foreign object throat obstructions can be much more hazardous to a patient's health and normally need to be treated by medical personnel.
Causes of Throat Obstruction
Internally occurring throat obstructions are usually caused by a swelling of the soft tissue surrounding the esophagus. Swelling can be caused by fever, infection or disease such as cancer.


Some internal throat obstructions are not noticeable unless the patient is lying down in a sleeping position. These types of throat obstructions occur when the uvula or soft palate is in a relaxed position and causes a partial blockage of the patient's airway; the tongue may also slide backwards and cause a partial throat obstruction if the patient is lying on their back.
The effects of these types of internal throat obstructions can be generally be heard while the patient is sleeping and can range from a soft snoring all the way to a loud and rather unpleasant buzzing sound. Snoring is rarely fatal but can become a serious health issue if the patient stops breathing in their sleep, experiences sleep apnea, and is awakened several times per night.
Snoring
Severe snoring, such as the type which causes sleep apnea has been known to cause severe sleep deprivation in patients and has been reported as the cause of discord in many marriages. The daytime effects of internal throat obstructions can be characterized by drowsiness, lack of focus and irritability. Each time the patient descends into deep sleep at night, the muscles of the throat relax and partially block the airway. This repeats the cycle of snoring and, in severe cases, sleep apnea. Sleep deprivation can also lead to other health problems, including heart disease and stroke.
Throat Obstruction? Get Remedies Fast!
External Causes
Externally caused throat obstructions are much more severe and the effects can be immediately life threatening. Blunt force trauma injury, applied externally, can cause the muscles and soft tissue in the throat to swell to the point of complete airway blockage. Throat obstructions due to a swallowed object can also be immediately life threatening.
These types of throat obstructions can be partial or complete and are more commonly called choking. Choking prevents the adequate normal flow of air into the lungs and can be caused by a partial blockage or a full blockage. Partial throat obstructions do allow some air to flow into the lungs, though in a seriously decreased quantity. Complete throat obstructions can lead, if not treated immediately, to asphyxia and death.
Children and Throat Obstructions
Children are often the most susceptible to throat obstructions caused by a swallowed object. In their explorations of the world, they are more likely to place an inedible object in their mouths than a knowledgeable adult.
When a foreign, inedible, object encounters the soft tissue in the airway, it can become lodged where the patient cannot remove or expel the object by coughing. Throat obstructions in adults are most commonly encountered while eating food. Either the patient attempts to swallow a bite of food which is too large and becomes lodged in the esophagus. Another hazard adults encounter while eating is bones from meat, such as chicken or fish.
Treatments for Throat Obstructions
The most common internal throat obstructions cause snoring and require one or more of many treatment options. The most common low or no cost treatments for snoring require a change in diet, behavior and sleeping habits in order to effectively work. The first step to treating snoring is to analyze the patient's behaviors and eliminate activities, food or drink that may make the throat obstruction worse.
Medications, foods or drinks which have drowsiness as a side effect tend to make snoring worse. Sleeping pills, depressants and decongestants relax the muscles beyond normal sleeping relaxation. The excessive relaxation of muscles can cause the soft palate, uvula or tongue to slide further back in the throat than normal sleeping and makes snoring worse for the patient and louder for those near the sleeper.
For Snorers
Those snoring patients who tend to sleep on their back often experience more severe snoring. There are two common methods for patients to ease snoring when they usually sleep on their back. The first is to modify the patient's sleeping position so they sleep on their side. While the patient may find it uncomfortable at first to sleep in this position, using pillows may assist the patients in maintaining a side-sleeping posture.
Body pillows are especially good for this method of position modification and are relatively inexpensive. Another treatment is for the patient, if they find it impossible to sleep on their side, is to elevate either their head or the head of their bed. Phone books or spare wood placed under the frame of the bed can elevate the head position enough to allow the patient to sleep without throat obstructions. Adding pillows of varying firmness direct under the patient's head can also serve to free any airway restrictions during sleeping.
Severe Snoring
For patients with severe snoring, which causes sleep apnea and sleep deprivation, surgery is often the only effective option. Physicians who specialize in treating snoring will usually conduct a sleep study on the patient to determine the extent of the apnea. Sometimes surgery is not necessary; however, a constant positive airway pressure, or CPAP, device may be prescribed to maintain air pressure in the airway and keep it open while the patient sleeps.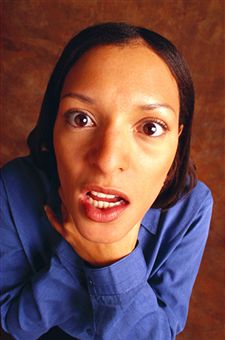 CPAP devices can be uncomfortable at first and do require an adjustment period. In cases where CPAP devices are ineffective, or the patient is not experiencing any significant relief from prescription appliances, surgery may be an option. Surgery for throat obstructions which cause snoring generally includes the removal of any offensive soft tissue which blocks the patient's airway while sleeping. The extent of the surgery depends on the patient's weight, specific soft tissue obstruction and overall physical health.
Serious Emergencies
Throat obstructions caused by an external source, either swallowing of an inedible object to swallowing food that is too large for the throat, are serious emergencies and can be immediately life threatening. Partial or complete airway blockage can cause asphyxia or death and needs to be attended to immediately.
Partial throat obstructions can sometimes be dislodged by the patient's coughing. If the patient is coughing and drawing in any amount of air, one should not interfere with the Heimlich maneuver, but should keep a close eye in case the object causing the throat obstruction becomes further lodged in the airway. Previously, slapping a choking person on the back was thought to be a dangerous way to dislodge an airway obstruction.
This has been found to sometimes make the situation worse by possibly lodging the object further down the throat and completely obstructing the throat. Back slapping to clear an obstruction should be done with some amount of force, but should be discontinued if the patient's choking symptoms worsen.
Emergency Procedures
If someone is choking or has another throat obstruction that is mostly to completely blocking their airway, call 911 immediately. Some obstructions can be cleared via the Heimlich maneuver, which should be done with care. There are different methods of delivering the Heimlich maneuver, depending on the patient's age and weight.
Direct abdominal thrusts should never be used on women who are pregnant, obese patients and small children. Delivering sharp abdominal thrusts to an average size adult who is choking is intended to compress the lungs and forcefully expel air and dislodge whatever object is lodged in the throat. Even in the best of circumstances, the Heimlich maneuver can sometimes cause rib injuries, especially to the xyphoid process. The xyphoid process is the bone protrusion directly in the center of the front of the rib cage.
Abdominal Thrusts
Abdominal thrusts should never be used if the choking patient is conscious and is still drawing air into their lungs. If the patient is coughing, and continues to cough, this is a good indication they are still able to draw air into their lungs. Not all throat obstructions that cause choking are due to solid or food objects. Sometimes swallowing liquid and having it travel down the airway instead of the throat can cause coughing.
The patient should be allowed to cough to try to clear the airway as long as they are conscious and still able to cough. If a choking person falls unconscious, the rescuer should switch from abdominal thrusts directly to CPR, or Cardio Pulmonary Resuscitation. CPR with chest compressions and assistance breathing is often enough to dislodge a foreign object from the airway and allow air to enter the lungs again.
Throat Obstruction Prevention
Taking the time and care to chew food completely before swallowing is one of the best ways to prevent food from becoming a choking hazard. In order to better prevent foreign objects from becoming a choking hazard for children, parents and caregivers should invest in a small plastic cylinder that is available in the baby care section of most major stores.
The plastic cylinder is sized very closely to the size of a toddler's airway. For safety, parents and caregivers can take an object and insert it into the plastic cylinder. If the object fits into the cylinder it will generally fit into a child's mouth and pose a choking hazard. Keeping small game pieces and toys away from small children is one of the only ways to prevent objects from becoming a life threatening choking hazard.
Internal throat obstructions are much more difficult to prevent and can sometimes pose as serious a health hazard as foreign object throat obstructions. Patients who candidly speak with their physicians regarding any type of difficulty they are having in swallowing or breathing often have a better chance at preventing serious internal throat obstructions.
If the obstruction is being caused by a sinus or throat infection, physicians can prescribe anti-inflammatory or antibiotic medications to prevent the infection from becoming worse. Gargling with peppermint mouthwash or salt water can often ease the discomfort and pain of an infection caused throat obstruction.
Effectiveness of Treatment
While some internal throat obstructions can easily be treated, at little or no cost, in the home, some require expensive machinery, appliances or surgery. The type, cause and severity of a throat obstruction will dictate the expense of the treatment. In cases of externally caused throat obstructions, prevention is the simplest cure.
In any case of foreign object throat obstruction, rescuers should not hesitate at all to call medical professionals or emergency services for assistance. Sometimes even the best trained rescuers cannot dislodge the object causing an obstruction and the patient must be treated in a hospital with emergency surgery. Above all else, staying calm for the patient is of utmost importance.